Tennis Tournaments
Our tennis tournaments are very competitive and always entertaining. Our tournaments are a great way to match your skills with members that you will never play with or against. We make sure all our participants have a great time and play a little tennis too.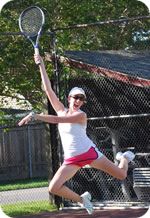 Steak & Bean Tennis Tournament
In the spring we host the Steak & Beans tennis tournament which pits Team Red against Team Blue. The teams are divided equally and the winner of the most matches over the course of the tournament eat steak at the awards dinner. The losers eat beans.
Trick or Treat Tennis Tournament
Leading up to Halloween we host our Trick or Treat Halloween tennis tournament. Players are divided up between two equally match teams. The draw of this tournament is each player must come in a costume on Friday night. It has made for some very interesting tennis.