Swimming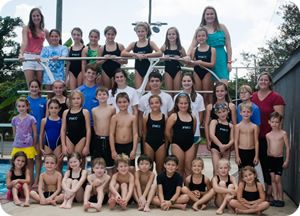 Paradise Manor Community Club provides a summer of activity, fun and friendships through our swim team.
This coming summer, our team --the PMCC Waverunners -- celebrates its 40th summer as part of the Jefferson Community Club Association (JCCA)! The JCCA was founded to sponsor competitive swimming and diving in and among the community swimming pools in the New Orleans area. Our teams and the entire JCCA seek to develop a love for the sport, advanced aquatic skills, teamwork, and the principles of good sportsmanship in the children participating in the programs. To join the swim or dive team at PMCC you must be a member.
The swim and dive meets begin in mid-to-late June and finish in late July. We end the season with a family dinner and awards night. Social activities for kids and families are scheduled throughout the season.
Children ages 5-18 are welcome to participate in the PMCC Waverunners. The season begins with practices in late May. Practices are held in the evenings 3 days a week through mid July.