Benefits
Swim Teams
Tennis Teams
Olympics
Teen Nights
Diving Teams
Kids Halloween Party
Kids Tennis Clinics
Dive In Movie Nights
BBQ pit & Smoker
Tennis Tournaments
Ladies Booty Camp
Friday Night Dinner
Friday Night Socials
4th of July Celebration
Indoor & Outdoor club rentals
Adult Lounge
No Guest Fees for babysitters
No Guest Fees for grandparents
Membership Inquiry
If you have any questions about Paradise Manor or wish to begin your membership send us a message and we will contact you promptly.
Annual Dues
Full Family Membership : $699 + tax
Tennis Membership : $350 + tax
Membership
Paradise Manor is different from a gym, workout facility, or Country Club – we are a Community Club. There is no "owner" of Paradise Manor, we are 100% member-owned, all governance comes from members who volunteer their time, and everyone's voice is equal. The mission says it all, "to provide a positive environment for families in the River Ridge area to interact socially, through sporting activities and leisure events for both children and adults, while perpetuating the benefits of a close-knit community." Please, get involved and reap the true benefits of your membership.
Paradise Manor has undergone a wonderful revitalization over the past several years, and there are no signs of it slowing down. The membership has grown steadily, the facilities have received a face-lift, and most importantly the sense of community is very strong. PMCC's sports teams provide our children with the opportunity to build self-esteem through setting personal goals and, with practice and persistence, attaining them. For young adults, the Club's employment opportunities build the foundations of a strong work ethic, self-sufficiency, and pride in what they do. For the adults and children alike, Paradise Manor provides opportunities to build lasting friendships that go beyond the boundaries of the Club.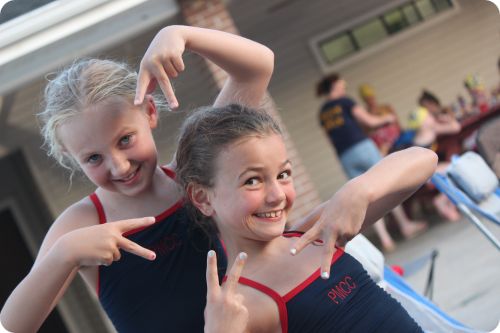 Over the past couple of years, we have been able to completely refurbish the pools and clubhouse. We were able to completely rebuild the outdoor grilling area with a beautiful 4' x 10' BBQ pit and smoker, as well as a beautiful gazebo complete with sinks, cabinets, a flat-screen TV, and new landscaping. Most recently, we have completed the repair and resurfacing of the two courts on the Generes side of the property.
Our membership is focused on building bonds with each other. Everyone is encouraged to participate in the Club's direction and success, and everyone is expected to bring their families, food, and drink to the Club to join us in having a good time. Whether it be to slap some steaks and scallops on the BBQ pit, cheer for LSU or the Saints, or support our kids in swimming or diving, compete in intraclub tennis tournaments, train together for a triathlon or ladies boot camp, or just sit back and relax poolside – we always do things together and make sure we are having a good time.